New OPV Simulator by Transas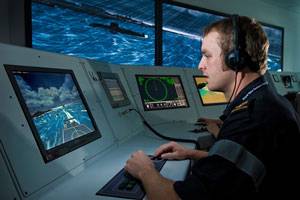 Transas has developed a new engine room simulator of the Offshore Patrol Vessel (OPV). A new simulator has been installed at the Royal New Zealand Navy Engineering School as a part of their Marine Engineering Sythetic Training Environmet (MESTE) complex. The project was locally supported by the Electronic Navigation Ltd.

The simulator provides the RNZN with a flexible solution to meet their training and assessment needs. A feature of MESTE is the overall simulation of the OPV's Integrated Platform Management System (IPMS). The simulator faithfully replicates the OPV IPMS screens, electrical plant controls, and the local operation of ships systems. Realistic system control consoles provide a high level of simulator fidelity.

An innovative simulator hardware solution has been developed for this project. The main switchboards are simulated by 40" LCD Touch screen panels instead of the tradition real hardware. Manually operated systems are controlled from workstations in a separate Machinery Control Room (MCR). 3D virtual models are used to operate the system controls and valves at the Local Operating Panels (LOP). The trainee can move within the virtual engine room, choose an LOP and operate systems using pop up control panels. Apart from being innovative, the solution proves to be extremely cost-effective.

The OPV engine room simulator is designed for the training and assessment of Officers and Technicians in the principles of operation and fault diagnosis of the OPV engineering/electrical systems. The simulator also provides for Pre Joining Training (PJT) and qualification of personnel prior to taking up their positions onboard these new, technically sophisticated ships. The MESTE enables ongoing and refresher training for OPV crews in ship familiarization, individual qualification for operating certificates, team building, communication and resource management. The connection of an integrated bridge simulator allows "whole ship" evolution training to be conducted, exercising communications between the bridge and engineering departments.
For individual or group training a 12 workstation generic IPMS classroom trainer has been included. Each workstation has the OPV simulator installed as well as other simulators for basic engineering training. Onboard training, assessment and distance learning is facilitated by the use of laptop computers.