New Super Cranes, Georgia Port Authority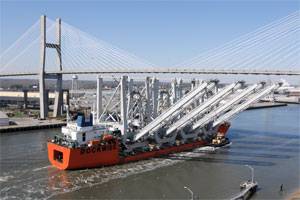 On Feb. 23, the Georgia Ports Authority (GPA) announced the arrival of four new super post-Panamax cranes at the Port of Savannah. The new cranes arrived aboard the Dockwise M/V Tern, a specially designed vessel capable of moving large, heavy structures.

"The arrival of four new super post-Panamax cranes is an excellent example of Georgia's commitment to expand capacity and provide superior services," said GPA Executive Director Doug J. Marchand. "The new additions to our fleet will reduce operating costs, increase flexibility and efficiencies for our customers."

With the addition of today's new cranes, Garden City Terminal now has the largest fleet (23) of ship-to-shore cranes at one facility in this country. The new cranes will be operational by mid-summer 2009.

"Our efforts today will create opportunities to gain market share tomorrow," said Marchand. "These preparations will ensure that when the economy does turn around, our rebound will be that much greater."

The cranes are part of the GPA's long-term strategic growth plan to accommodate 6.5 million TEUs of capacity by 2018, doubling its current capacity, Marchand added.

Fully assembled, the cranes are approximately 425 ft long, weigh 1,369 tons and rise 180 ft above the water with a 34-degree incline.

Modern and environmentally friendly, the four new cranes are the largest of their kind in the world, with the capability of handling super post-Panamax vessels the size of 22 containers wide. The state-of-the art cranes were designed in Finland and built in China by Konecranes VLC in China.

The new cranes are energy efficient and will be powered solely by electricity. "The cranes will generate more than 30 percent of their total energy requirements by tapping into the power of gravity and kinetic energy," said GPA's Director of Engineering and Maintenance Wilson Tillotson. "For every one hour each of these cranes is operational, it uses its own power for approximately 18 minutes."

Georgia's deepwater ports and inland barge terminals support more than 286,476 jobs throughout the state annually and contribute $14.9b in income, $55.8b in revenue and $2.8b in state and local taxes to Georgia's economy.