Northern Lights to Show DECS at Miami Boatshow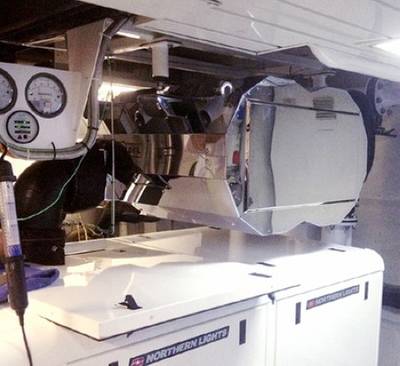 Northern Lights to feature its Diesel Exhaust Cleaning System (DECS) at the 2013 Progressive® Insurance Miami International Boat Show.
Based on DCL International's MARINE-X™ system, DECS removes soot and particulate matter as it is emitted from the diesel engine. The air and water quality on and around the vessel is vastly improved, offering a clean, enjoyable environment for everyone on board.

When equipped with DECS, exhaust gas is routed through a catalytically coated ceramic filter, trapping soot and particulates. Unlike other exhaust cleaning systems, DECS uses a passive regeneration process which does not require additional equipment, controls or regeneration time. The Northern Lights generator set functions normally, while particulate matter is continually burned off using the heat emitted by the engine's own exhaust.

The DECS unique filtration process reduces carbon monoxide by up to 98% and diesel hydrocarbons by up to 95%. At a conservatively rated exhaust gas temperature of 300° C (572° F), the soot burns away and transforms into harmless CO2. It is CARB Level 3 verified and NO2 compliant.

The DECS modular steel housing and removable elements are designed to thrive in the unforgiving marine environment. DECS is engineered to be application specific and its polished stainless steel exterior maintains a low-service temperature with a high polish to complement any engine room. The state of the art monitoring system records critical engine information. DECS meets or exceeds the sound attenuation standard of marine engine mufflers, as well as all classification society requirements.

For more information about DECS and other Northern Lights marine power generation, HVACR and hybrid solutions, visit booth P100 at the 2013 Progressive Insurance Miami International Boat Show, February 14-18, 2013 or click here.