Cruises in Northern Europe Stay Popular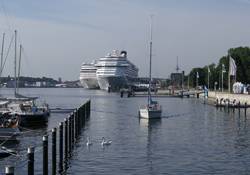 Forum "Cruise Shipping Destinations Schleswig-Holstein" in Kiel Kiel, September 9, 2011: the trends, potential and prospects of cruise shipping tourism are up for discussion today in Kiel's Hotel Atlantic at the trade forum "Cruise Shipping Destinations Schleswig-Holstein" organised by the Schleswig-Holstein Tourist Agency. The forum is an information platform and an opportunity for trade experts to exchange views. Dr Dirk Claus, Managing Director of the Port of Kiel (SEEHAFEN KIEL GmbH & Co. KG) and a partner of the "Cruise Shipping Destinations Schleswig-Holstein" project said "cruises in northern Europe continue to be as popular as ever and Kiel is benefitting from this growth. The number of travellers has more than doubled to 350,000 inside just four years." The port chief singled out three developments in particular. "As cruise ships continue to get bigger, they themselves become objects of interest, the public is getting younger and the northern Europe cruise season is getting longer", Dirk Claus said.
This year the average size of cruise ships calling at Kiel is almost 65,000 GT for the first time. That's five times more than the average cruise ship size in 2001 (12,850 GT). "The increasing size of ships has placed challenging demands on port locations. Enormous investments have been made in expanding terminal facilities and further capacity expansion will be necessary", said Dirk Claus. Ships of more than 300 metres in length, carrying more than 3,000 passengers, are now increasingly being brought into service in the Baltic and require handling logistics which need to be well-planned and include good service. To continue to meet this growing future demand, not only the Ostseekai but also, from 2013, the Ostuferhafen will be in a position to host big cruise ships. Of particular importance for port locations is the trend towards longer cruising seasons in northern Europe. Whereas cruise ships have so far traditionally operated between May and September in the Baltic, the season now starts as early as the beginning of April and lasts until mid October. "In the coming year", said Dirk Claus, "we will even welcome a cruise ship to Kiel during Advent. Why shouldn't cruise ships , like ferry ships, soon be sailing all the year round in the Baltic." As well as being a start and end port, Kiel is also the gateway to Schleswig-Holstein as a tourist destination. Dirk Claus said "the public is getting younger and ur international guests want increasingly active land excursions. There is an opportunity here to market Schleswig-Holstein's many tourist attractions. In this respect I heartily welcome the co-operation among tourist and port concerns which is promoted within the "Cruise Shipping Destinations Schleswig-Holstein" project." The SEEHAFEN KIEL operates Kiel's commercial port on behalf of the Schleswig-Holstein state capital, of which it is a 100% subsidiary. Kiel boasts a total of three modern passenger terminals for ferry and cruise ships at the Ostseekai, Schwedenkai and Norwegenkai - all of them in inner-city locations. Smaller cruise ships and large private yachts can berth at the Sartorikai which has a very special atmosphere. Inside just five years and with the support of the state of Schleswig-Holstein and the EU, well over 60 million Euros have been invested in the expansion of port facilities.