10,000dwt Ocean Deck Barge Sold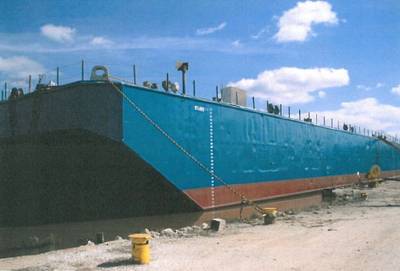 The 10,000dwt, Vanuatu flagged ocean flat deck barge "DRC/Blake 1" (ex- Eide Barge 35, Pacific Horizon, MB-100, SLB-1 and SLB-2) was sold to private South American buyers, marking the second time that Marcon International, Inc. of Coupeville, Washington has sold this heavily-built unit.
Marcon previously sold her from Horizon Offshore of Houston, Texas to Eide Marine Services of Norway in 2004. "DRC/Blake 1's" dimensions are 100m x 30m x 7.5m' depth and she has a 10 tonnes per square meter uniform deck load. The barge is classed by Lloyds, LR +100 A1 Pontoon. "DRC/Blake 1" was converted in 1996 by longitudinally joining two existing barges which had been originally built in 1982/3 by Scott Lithgow, Ltd. in Glasgow, Scotland. The original 328' x 45.9' barges "SLB-1" and "SLB-2" were specially built for load-out of heavy deck units for mating to semi-submersibles. Each pontoon segment was ballastable and fitted with a pump room located forward with two 350m3/h ballast pumps.
The "DRC/Blake 1" will be repositioned to South America by her new owners. Marcon was sole broker involved in this transaction. Marcon International Inc. has brokered 35 sales and charters to-date in 2011. Several additional sales are pending and expected to close shortly.