Oceanteam Offshore Vessels Fully Employed in Q1 2013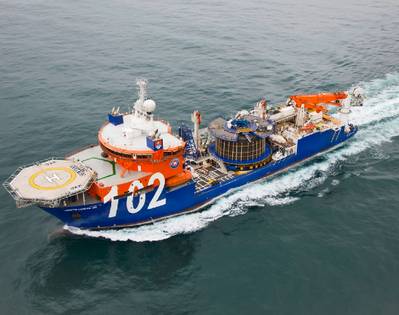 Oceanteam also says it continued its investment program in 2.000 / 4.000-ton modular carousel systems.
Highlights for the first quarter of 2013:
· Revenue from operations USD 16.5 million
· EBITDA from operations is positive USD 7.2 million
· Operating profit of USD 3.8 million
· Net finance costs USD 3.9 million
· Net profit of USD 0.2 million
Outlook:
Oceanteam Shipping sees strong market activity in both the Offshore Oil and Gas as well as the Renewable Energy Market for certain regions and the management expects this trend to continue. Oceanteam Shipping is confident, and has secured sufficient projects in both the Offshore Oil and Gas and the Renewable Energy Markets to maintain a high level of utilization of its assets and engineers.

The company's strategy is to focus on the provision of ''state of the art'' construction support, flex lay vessels plus engineering and equipment services for the Oil and Gas market, as well as the offshore Renewable Energy Market. This strategy will provide the company with excel- lent opportunities in the near future. The company is experiencing strong interest for its vessels from leading companies in the world.
Norway's 
Oceanteam Shipping ASA is an offshore shipping company. Its business is the owning, chartering and managing of Deepwater Offshore Construction Service - and Pipe Lay Vessels In addition Oceanteam Shipping provides complementary Engineering Services consisting of both Engineering & Design Services and Equipment to support its clients.