South Carolina Officials Welcomed at Panama Canal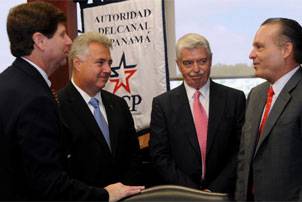 Panama Canal Authority (ACP) Administrator/CEO Alberto Alemán Zubieta welcomed officials from South Carolina, including state legislative and port representatives. The delegation, which visited the Panama Canal and the Pacific side expansion site, arrived in Panama September 22.

The initial meeting, included South Carolina State Ports Authority (SCSPA) Board of Directors Chairman Bill Stern; South Carolina State Senator Larry Grooms; Rockefeller Group Development Corporation Executive Vice President, Development, Leslie E. Smith, Jr.; and Mr. Alemán Zubieta. Afterward, the delegation members took a VIP tour of the Miraflores Locks and a local port.

The ACP currently has an active Memorandum of Understanding (MOU) with the SCSPA, which will be up for renewal next year.