Miclyn Express Offshore Takes Delivery of MSV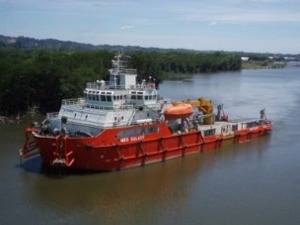 Miclyn Express Offshore takes delivery of 2011 built 70m Maintenance Support Vessel, renamed "MEO Galaxy".
Headquartered in Singapore Miclyn Express Offshore group of companies is a leading provider of service vessels to the expanding offshore oil and gas industry, across South East Asia, Australia and the Middle East.
MEO Galaxy is an ideal vessel to provide support for platform maintenance, as well as HUC operations. The fully SPS compliant vessel is capable of carrying 150 persons and is fitted with a 4 point mooring system, combined with a clear deck area of in excess of 600m2 and a 25tonne deck crane.
The vessel has a service speed of 12 knots with twin 1750bhp main engines. The first deployment will see the vessel operating in Malaysia in the medium term, however strong demand both within South East Asia and the Middle East looks to provide a strong future for the vessel elsewhere.