Offshore Oil Drilling Market to Suffer through 2015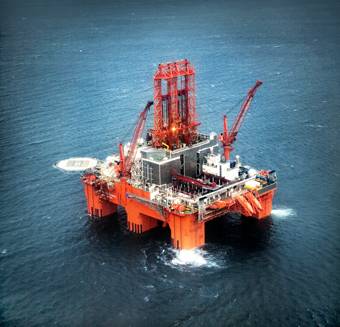 A sluggish offshore drilling market could deteriorate further next year due to weak demand and a flood of new vessels, even though a few places such as Mexico and Brazil remain promising for exploration, industry executives said on Wednesday.

Rig rates have fallen sharply over the past 18 months as oil companies cut capital spending, saving cash for dividends, just as dozens of brand new offshore rigs ordered during the boom times hit the seas, creating overcapacity.

"The market is going to be bad this year, it is going to be worse next year, then it will be stabilising," Rune Magnus Lundetrae, chief financial officer (CFO) of Seadrill, the world's biggest driller by market capitalisation, said on the sidelines of an industry conference.

Day rates for the most advanced ultra-deepwater rigs peaked around $650,000 last year and are now down in a range of $375,000-$500,000, though contracting activity by oil firms has slowed to a trickle, making it hard to establish the actual market rate, executives said.

"It is going to be a very challenging market place for the next 12-18 months," Transocean CFO Esa Ikäheimonen told Reuters. "People will retire some of the older assets and typically deepwater and midwater assets will be going."

"You will probably see day rates lower than what I indicated in the ($375,000-$500,000 per day) range," Ikäheimonen added. "But you might see day rates that are higher ... To me that is the average level where I think the deals will be done."

Orders for new ultra-deepwater rigs equal around 50 percent of the existing fleet and analysts estimate around a third of the new vessels that will come during the next three to four years still have no drilling contracts.

Seadrill's Lundetrae said the market could need another 24 months to bottom out, though for older assets rates were already near the bottom and he expected older vessels to be idled.

Offshore drillers have been among the worst performing shares this year, with Transocean's stock down 25 percent in the past year, underperforming a 7.6 percent rise in the S&P 500 index. Seadrill, whose newer rigs are in greater demand, is down 14 percent, while Ensco is off 18 percent.

Rates for jack up-type rigs, which are used in shallow water and stand on their legs on the sea bed, have also fallen, though not as much as deepwater floaters, with executives predicting rates around $160,000 per day, down from rates around $225,000 at the peak.

"The jack-up market is not showing a drop-off in demand, actually it is showing an increase," Carl Trowell, the chief executive of Ensco said. "It will drive out some older rigs. We are confident about the jack-up market."

While drilling in the North Sea, Africa and the Gulf of Mexico could slow, places such as Mexico and Brazil could pick up some of the slack.

"There are three hot spots right now, and Mexico is one of them," Gustavo Hernandez Garcia, the exploration chief of Pemex said, adding that Brazil and South East Asia were the others.

"We definitely need to increase our capacity," he added. "We need to increase our jack up capacity to about 70 from 60 during the next couple of years to keep the level of activity."
(By Gwladys Fouche and Joachim Dagenborg, Writing by Balazs Koranyi; Editing by Mark Potter)