Offshore Wind Farm Support Vessels Order for Havyard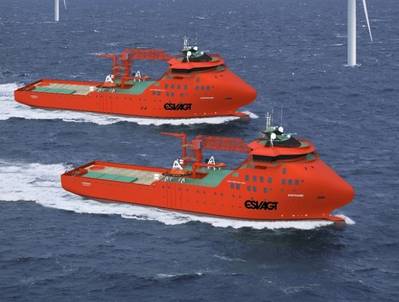 ESVAGT will operate the vessels, due for delivery by Havyard Ship Technology in Dec. 2014 & March 2015, to be used in connection with maintenance of offshore windmill installations.
ESVAGT is a new customer for Havyard and it is also the first time Havyard will design vessels for service and maintenance of offshore windmills. The basis for this design, however, is taken from technology that Havyard says it has developed and delivered to the offshore oil industry through time.
Havyard 832 SOV has been designed based on specifications from ESVAGT and together with Havyard's solid competence within shipbuilding and design of advanced offshore vessels; they have together made a product that the market demands.
'We are not trying to reinvent the wheel every time, says Design Manager Arve Leine of Havyard Design & Solutions. The most successful development of new products are often based on recycling familiar technology, but quite likely improved and made use of in new ways. The Havyard 832 SOV design is a good example of this. This design is based on our PSVs where we have incorporated technology that is used to serve the needs for service and maintenance of offshore windmill installations. "

Key data Havyard 832 SOV:
Length: 83.7 m
Breadth: 17.6 m
Speed: 14 knots