BAE Systems to Build More Jackson Offshore PSV's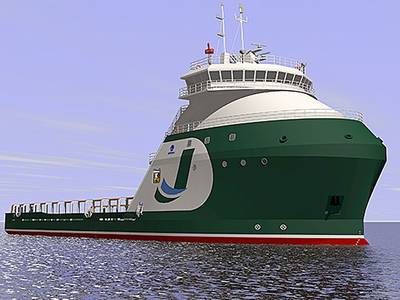 BAE Systems' shipyard in Florida to build two additional platform supply vessels (PSV's) for Jackson Offshore Operators under a contract option.
The new vessels, which will service offshore drilling operations in the Gulf of Mexico, reflect BAE Systems' continued growth in U.S. commercial shipbuilding and its support to the oil and gas industry.

Each of the Jackson Offshore Operators vessels will be qualified under the U.S. Jones Act and will measure 252 feet long and 60 feet wide. BAE Systems' Jacksonville shipyard recently commenced construction on the first of two PSVs as part of the original contract. Those two vessels will be completed in 2015.

The GPA 675J PSV design is provided by Guido Perla & Associates, Inc. of Seattle. The vessels include an integrated Rolls-Royce ship systems package, inclusive of a low-voltage, active front-end diesel electric system and a complete Rolls-Royce propulsion package with Azipull propulsion thrusters.
"It's an exciting time for Jackson Offshore Operators, and the exercising of this option is an example of our confidence in BAE Systems as a quality shipbuilder," said Lee Jackson, president and chief executive officer of Jackson Offshore Operators, LLC. "Like our other previously announced vessels being built by BAE Systems, once delivered, these vessels will be deployed on multiyear contracts in the Gulf of Mexico."

"We are very pleased that Jackson Offshore Operators has the confidence in BAE Systems to move forward with their additional ships," said Richard McCreary, vice president of BAE Systems Southeast Shipyards. "These ships will allow our Jacksonville shipyard to continue to grow its backlog and its employment, which is important in these times of federal budget uncertainty."