North Wales Offshore Wind Trainees Breeze Through Program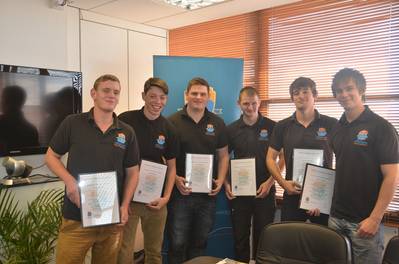 Six offshore wind energy trainees from North Wales have successfully completed a year-long training program with the UK's only dedicated academy for the offshore wind industry and are ready to take up positions in this rapidly expanding industry.

The trainees were fortunate enough to be selected for Offshore Marine Academy structured traineeship, which selects candidates with an affinity for the marine and coastal environment and aim to prepare them for a new career in offshore wind.

Ranging in age from 20 to 24, the trainees came from varied backgrounds including plumbing, sport coaching, Royal Marines and engineering, but all joined the programme with the ideal of starting a long-term career in the industry. They will have plenty of local opportunities via existing and planned offshore wind farms such as Rhyl Flats, North Hoyle and Gwynt y Môr.

One of the trainees, Troy Melling from Old Colwyn said that he had been aware of the offshore industry for some time but had found no opportunities to get into it until he saw the advertisement in the local newspaper asking for applicants to join Offshore Marine Academy.

The trainees are the second group to go through the Bristol-based training academy's Offshore Trainee Program, which started in the south west of England in 2010. Through classwork, field trips, site visits and operations, they covered offshore survival and induction; lifting and rigging practice; sessions on seamanship and navigation, sub survey, working at heights and confined spaces; project and financial management, and safety training.

Trainee Scott Pitman from Holyhead said the whole program had been a great experience while Ronan Conway from Colwyn Bay said his stand-out memory was his first offshore placement. "I met some interesting characters from all over the world – it's a very multicultural business – and I enjoyed learning all the different aspects of life offshore," he said.

Academy Director David Martin said the aim was to give the trainees a wide mix of training and experience to enable them to get a full insight into the range of roles available – including storeman, deckhand, cable loader, mobilizations assistant. It also provided an opportunity to put into practice the training they had previously undertaken.

Joe Stafford, trainee from Colwyn Bay said he enjoyed hands-on rigging and thought that while he was young would like to work through the deck roles before moving onto surveying once he was more experienced – although health and safety was another option he would like to explore.


The Offshore Marine Academy launched its Offshore Trainee Program in response to the recognized skills gap in the offshore wind industry, where there is a basic lack of qualified and capable workers available to fill the needed positions. The Academy aims to give trainees the right mix of training and experience to start their career in this growing arena.

All of the trainees are now keen to further their qualifications and continue in the industry. For example Ralph Williams from Penrhynside has already started looking at follow-up courses so he can add to his qualifications and gain more experience to specialize in either ROV or survey work.

David Martin added that the Academy focussed on North Wales due to the expanding wind industry activity in the area, which means they would already be close to the employment market. "Successful completion of the programme requires a high level of commitment and a willingness to adapt while working in a challenging environment. All of the trainees have demonstrated this during their time with the Academy and I am confident that they will each go on to have a successful career in their chosen field within the offshore renewable energy industry."

The first group of trainees, who graduated at the end of 2011, are now all working within the industry in areas from hydrographic survey and logistics to cable engine driving. One of them, James Grant was this month awarded the JTL Training South West Region Best Apprentice Award in recognition his completion of the Electro Technical Science apprenticeship in the face of personal and professional challenges.

OMA was named as the Best Apprentice Winners Employer in the South West. Both James and OMA representatives will attend the JTL's National Award Ceremony in February 2013 in London. "We were delighted to be chosen from amongst the other worthy UK finalists."