Huge Offshore Turbine Blades Arrive at Test Center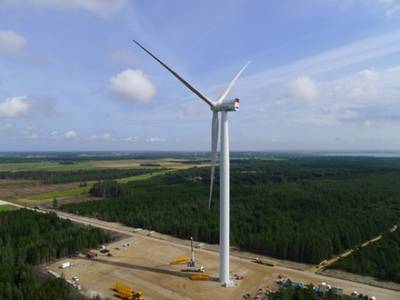 Manufacturers Vestas have sent three 80-meter blades for what they describe as the world's most powerful offshore wind turbine, Vestas V164-8, to the Danish National Test Center for large wind turbines in Østerild.
The arrival of the blades means that all essential parts for giant turbine now in place at the test center, and the unit is expected to deliver its first power in early 2014.
The blades were manufactured in the Isle of Wight, England, and were sent by ship to Bergen and beyond with special transport to Østerild.

Vestas say these are the longest turbine blades they have ever made: each blade weighs about 35 tons, and the diameter at the base is 4.6 meters. The rotor diameter of 164 meters is greater than the London Eye, which measures only 135 meters.

Source: Vestas/Maritime Denmark