BSEE's Watson to Visit AK Offshore Site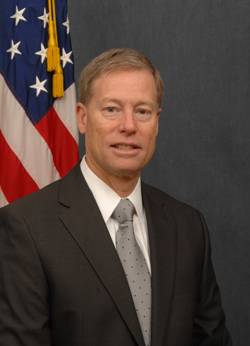 Director Watson Visits Arctic Drilling Rigs for First-Hand Look at Safety Equipment, Meets with Alaska Native Community Leaders, Shell Officials; Today holding media conference call to discuss visit and BSEE inspection and oversight activities.
As part of the Obama Administration's commitment to safe and responsible offshore energy exploration and development, Bureau of Safety and Environmental Enforcement (BSEE) Director Jim Watson today visited the two drilling rigs that Shell has proposed using for exploration activities in the arctic this summer. Docked in Seattle, Kulluk and Noble Discoverer are currently undergoing thorough reviews from BSEE engineers and inspectors, as well as Coast Guard safety inspectors.
Tomorrow, Director Watson will travel to Portland, Oregon to visit Shell's capping stack – a key piece of safety equipment that Shell is required to have in position in the Arctic as part of BSEE's heightened safety requirements. BSEE inspectors will monitor the deployment test of the capping stack in the coming weeks. Immediately following the visit, Watson will hold a media teleconference to outline BSEE's review, oversight and inspection activities.
"BSEE engineers and inspectors will conduct careful and thorough reviews to ensure our standards for safety and preparedness are met before any drilling is approved," said Director Watson. "If Shell meets the standards, BSEE professionals will ensure that any drilling activities comply with the most rigorous safety and oversight program ever deployed. Over the coming days and weeks, our team will be implementing and overseeing a rigorous schedule of tests, inspections, and exercises to ensure that safety is front and center every step of the way."
Watson was joined on yesterday's tour by leaders from Alaska's North Slope Borough and other officials from Alaska's North Slope, including the Mayor of the North Slope Borough, representatives from each village, and the Alaska Eskimo Whaling Commission. They discussed BSEE's commitment to a continuous presence aboard the rigs should drilling occur in the Arctic, as well as other safeguards that will be implemented.
Director Watson also met with senior officials from Shell Alaska to discuss Shell's proposed operations and BSEE's ongoing reviews of the Kulluk and Noble Discoverer. BSEE and the U.S. Coast Guard are expected to perform tests of Shell's capping stack and containment system in the coming weeks. Final drilling permits would not be issued until both the capping stack and containment system are successfully tested; if permits are issued the equipment will be tested again once it arrives in the Arctic.
Shell has requested approval to drill two exploratory wells in the Beaufort Sea and three exploratory wells in the Chukchi Sea this summer. Earlier this year, BSEE approved Shell's oil spill response plans for both the Beaufort and Chukchi Seas, but Shell must still seek and obtain approval from BSEE for well-specific drilling permits prior to commencing operations.
In addition to this week's events, on-water exercises and drills will be conducted and on-site inspections of oil spill response equipment will be required throughout the proposed drilling operation. BSEE will use its authority to conduct a variety of equipment inspections and deployment exercises, some of which may be unannounced, to validate the tactics, logistics, resource availability, and personnel proficiency identified and relied on in the approved oil spill response plans.