Royston Appoints New Operations Manager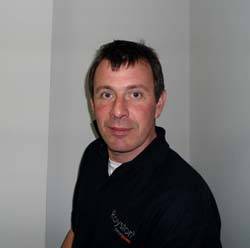 Simon Richardson has been appointed as operations manager for diesel engineering specialists Royston Ltd. The appointment follows the retirement of Peter Millen after 30 years with the company.
Simon took over the position at the end of March but will continue to benefit from Peter's experience as he intends to continue working on company projects on the shop floor for two days a week.
Simon joined Royston in 1997 and has become well known among the company's global customer base for his technical expertise as a field service engineer. In that role he provided hands-on engineering support for Royston's service teams when undertaking the maintenance and repair of diesel engines. This can be as part of a regular service contract or in response to an engineering emergency experienced by a Royston client.

In his new appointment Simon will manage customer support 24/7 and will take charge of the deployment and logistical planning of the company's engineering teams. These can be required to work anywhere in the world and may also involve the employment and management of local labour. Skilled logistic management can also be important as Royston service teams must often be accompanied by their own tools and machinery. Simon's extensive field service experience will help him with this aspect of his work while UK customers using Niigata engines will benefit from his specialised knowledge acquired during a four month secondment to the company's factory in Japan.

Simon will be based at the Royston Ltd headquarters in Newcastle-upon-Tyne, UK. The company also has facilities in Perth, Australia from where its service support teams can achieve a global reach. The company's technicians come from a variety of OEM backgrounds and maintain their skills at the highest levels to ensure that even discontinued products remain fully operational. Engineers from Perth or Newcastle-upon-Tyne can consequently support any type or age of diesel engine anywhere in the world.