OW Bunker Begins US West Coast Operations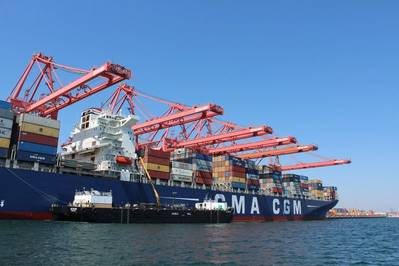 First deliveries and new employee appointments signal a strong start to OW Bunker's fuel distribution services in the Ports of Los Angeles and Long Beach


OW Bunker has confirmed that its newly established physical distribution operation in Los Angeles and Long Beach, California, is now fully operational.


The company's first physical delivery was made to the containership CMA CGM Norma from the double-hulled barge Lily Blair earlier this month. Since then, OW Bunker has completed more deliveries as part of its service that covers the ports of Los Angeles and Long Beach and offers a full range of quality products, including RMG380 (HSFO and LSFO), RMK500, RMK700 and MGO.


To support the US West Coast operations, OW Bunker has hired Martijn Kelderman as Manager - Physical Operations – Los Angeles, while Cindy Bauer-Gomez and Raymond Bacani have joined the team as Operations Manager and Sales and Marketing Manager, respectively. Between them they bring considerable, wide-ranging international and local bunkering experience.


Adrian Tolson, Regional Manager, OW Bunker North America, said, "We are pleased to strengthen our newly-launched physical operations in Los Angeles and Long Beach with the appointment of a strong, dedicated core team who have the ability to work intuitively with customers, especially as the 2015 ECA regulation implementation date draws closer."


Tolson continues, "In addition to the successful completion of our first deliveries in Los Angeles and Long Beach, we have been encouraged by the considerable interest our customers have shown in this new service. This reinforces our conviction that ship operators are seeking more integrated bunkering services that are consistent in both price and quality from port to port. With a highly qualified and experienced team, strong relationships with local partners and a developed infrastructure across North America, we are well positioned to meet this demand."


OW Bunker announced its expansion into Los Angeles and Long Beach in March this year, nearly 18 months after launching a physical offering offshore in the Gulf of Mexico. The company also signed a deal in February 2014 with UNIPEC America to provide products at the BOSTCO fuel oil terminal in Houston.