Macklin Operations Manager, Cosalt Wind Energy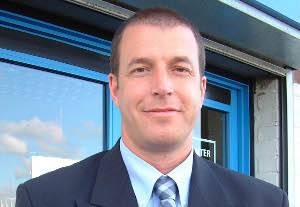 Cosalt Wind Energy has appointed Adrian Macklin as its new Operations Manager. With a proven track record in project and operational management, business development and distribution management, Adrian brings with him a wealth of experience in managing large teams of people within a wide distribution network.

In his new role Adrian will be responsible for developing Cosalt's rapidly expanding team of wind turbine engineers and promoting a culture of service excellence. Working closely with customers, Adrian will oversee the operational side of a service contract, ensuring appropriately skilled engineers are available to carry out installation or maintenance work as required. He will also manage the delivery of critical support services.

After training as a mechanical and production engineer and completing a full apprenticeship, Adrian worked in a number of engineering roles before moving into business development and operations management. He first joined Cosalt in 2001 as Manager of the Grimsby branch and was quickly promoted to North East Area Manager. In 2008 he left the company to pursue a career in management consultancy but continued to work with Cosalt on various projects including taking up a position as interim Marine Manager for Cosalt's Offshore business in Aberdeen.

Said Adrian: "I am looking forward to the challenge of working for Cosalt Wind Energy and being involved in the development of Cosalt's future apprenticeship scheme. This is an exciting new business in a fast-growing market. The focus of the company is on getting to know a customer's business so that a service solution can be put together that works for them. My job will be to manage the delivery of these services by making sure we have the people and the resources in place to run a reliable and efficient business operation."

Cosalt Wind Energy, which is part of Cosalt's Renewables division, offers support at every stage of a wind project from the installation and commissioning of new wind turbines to the repair and maintenance of existing facilities. The company draws upon the resources of Cosalt's Offshore and Marine businesses to provide a wide range of complementary services covering marine safety, height safety, wire & fibre rope, lifting & rigging, asset management and inspection & maintenance. With Cosalt's branch network located in close proximity to the UK and mainland Europe's key wind turbine development sites, Cosalt Wind Energy is ideally placed to service the growing offshore wind sector.