BOURBON CEO Lefèvre Addresses Offshore Opportunities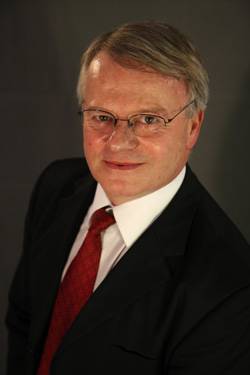 MarineNews caught up with BOURBON's Chief Executive Officer, Christian Lefèvre.
As BOURBON's CEO since January 1, 2011, Lefèvre has aggressively set about furthering BOURBON's business strategy which focuses on the offshore oil and gas marine services sector. The newly-appointed Chief Executive Officer has hit the ground running and has BOURBON on a steady course to achieve the promise of the "BOURBON 2015 Leadership Strategy Plan." A total of 423 vessels – 251 crew / 70 deepwater PSV & AHTS (or OSV)/ 17 subsea / 85 shallow draft – with an average age of just 5.6 years are at his disposal as he tries to improve on already enviable position as one of the world's most prominent offshore services providers. Follow along as he explains how, where, and why:
You recently said "We have arrived at the end of a downturn that has lasted since late 2008, and the market for modern offshore vessels is now turning around." Are the rates for your modern and fully compliant vessels yielding better rates than lesser fleets or is the economy still weighing on this sector with many idled boats? Looking Ahead: what do you see?
We can see today that most of the idled equipment is of 1970's-1980's build, so most of that excess capacity, is old tonnage. In terms of shallow water equipment (less than 2000 DWT; less than 10,000 BST), we now operate 85 modern shallow water OSV's and we are enjoying average day rates with our modern equipment of about $12,800 per day. And during this period – the first half of 2011, we (BOURBON) reached a utilization rate of 87.5 percent. In contrast, the daily average being paid for older tonnage was only $8,000 per day. Today, clients are prepared to pay a premium for better, newer tonnage, especially those utilizing diesel electric and other premium equipment.
Tell us briefly about your recent financial performance – 6 months and one year back. These were much improved numbers, yes?
Our performance for the first half of this year, in comparison to last year, has indeed much improved, 16 percent better than the same period last year. But, our results were impacted negatively by the performance of U.S. dollar versus the EURO. As much as 70 percent of our costs are in currencies other than the U.S. dollar, while 70 percent of our revenues are in dollars. However, since June, the dollar has been rising against the EURO, which will be an advantage for BOURBON.
What are your plans, if any, for U.S, Gulf of Mexico Deepwater Operations? Are you looking to expand in this sector?
The US Gulf of Mexico is too restrictive due to U.S. Jones Act rules. Taking into consideration the fact that our vessels cannot carry cargo in offshore areas, it is impossible for a foreign owner to enter this market.
What will be your primary targets for increased business in the new year? Where? And, Why?
We are very strong in West Africa where we have operated vessels for more than 30 years. We feel that this is still a growing market. If you look at the investment plans of the oil majors for the next 5 years, this involves as much as $90 billion in this region. We are also putting a lot of effort into bring up our business in the Far East, where we know that there will be a lot of investment in the next four years. We will, therefore, follow that market. And most of those investments there look like they will be done in shallow water. Brazil is very promising, but as you know, there are cabotage issues here, as well. This is a two-tier market. The first market involves long term deals with local oil companies, which must use local vessels. The building price here is 30 percent higher than in Europe or the Far East. Under those conditions, we are not willing to invest capital in this type of market. In the secondary market, however, we do operate in Brazil we had some success last year, and, we will definitely continue to compete there. Last year alone, we brought in 8 additional PSV's and today, we have a total of 28 BOURBON vessels operating in Brazil.
Offshore Oil & Gas has long been your focus, especially as you've moved away from diversification in other sectors. This carries with it advantages in economies of scale, but also creates risk when a company is confined within just one sector. How do you hedge against future downturns?
It is true that 10 years ago, we were much diversified. But, we decided to concentrate on our maritime services and in 2004 and 2005, we sold our retail and sugar processing arms. Since then, we have focused our business plan on offshore supply vessels. And, for the past 10 years, we have averaged 20 percent growth, which is quite impressive. And, yes we are now tightly focused on the OSV market and we will follow its growth and its renewal market. I believe that the best hedge is to have a young, modern fleet and good, trustworthy relations with clients.
Safety is a key area of focus within Bourbon. This reflects on your corporate stewardship of the environment and much more. How many of your mariners have so far gone through your new high-tech training facilities. Are these training efforts yielding measurable improvement in performance metrics?
Because of our fast growth, we are investing in BOURBON Training centers all around the world and in simulators, among others in Marseille and in Singapore. The main challenge with fast growth is to have competent people. We train our people extensively for emergencies and for extreme weather conditions. Fully 60 percent of our deck officers have been trained on the simulators already, but our goal is that 100 percent of our officers and pilots be trained. Our newest simulator is dedicated to crewboat training, because these vessels have different propulsion systems and maneuvering styles.
For a global operator, piracy is a big deal and is impacting West African ports. Does Bourbon have a plan in place to combat this problem and are your vessels at this time operating in any areas of risk?
We have our own security teams and we organize convoys with security vessels; 2 for each convoy. We are also working with our clients to make sure security schemes are in place and our vessels and crews are protected. Piracy is a challenge, but we don't necessarily feel that the problem is getting worse. Every day is different and every day, we have to adapt the plan to reflect the daily situation.
Sum up the Bourbon business philosophy today for our readers.
We believe we are in a very good position to take advantage of today's markets. And we are encouraged by a number of factors. North Sea markets are rising, picking up again after 2 years of weak performance. We are working very hard on offering the highest crew competence. Part of this is accomplished by standardizing our fleet through series-build programs, where, if we take the example of the Bourbon Liberty series, a total of 76 vessels are being built, 54 AHTS and 22 PSV's. This provides for economies of scale in terms of training and maintenance efficiencies, as well as more availability to clients. This also helps us reduce our CapEx through volume purchases of equipment. In a nutshell, we aim to be the last to be dropped and the first to be picked up.
(As published in the from the November 2011 edition of MarineNews - www.marinelink.com)