Indian Businessmen Explore Opportunities at Kizad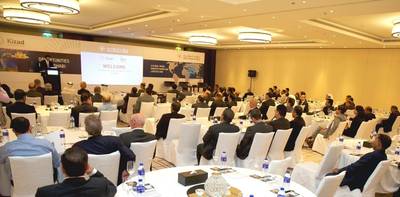 Abu Dhabi Ports (ADP), the master developer, operator and manager of ports and industrial zones in the Emirate, presented the offerings of its Khalifa Industrial Zone Abu Dhabi (Kizad) and
Khalifa Port
at an exclusive business event in Dubai.
Organized by Abu Dhabi Ports in association with Indian Business and Professional Council (IBPC), the invitation-only event for Indian businessmen was held last Tuesday, October 20, at JW Marriott Marquis Hotel.
The facilities and infrastructure available for businesses in Kizad, the industrial and logistics hub of the Khalifa Port, were detailed in the half-day event titled "Opportunities in Abu Dhabi―A Global Trade, Manufacturing and Logistics Hub".
His Excellency T.P. Seetharam, the Indian Ambassador to the UAE, delivered the keynote speech at the event, which attracted more than 70 Indian businessmen from across the UAE.
Many Indian businesses have already set up their businesses in Kizad, according to ADP.
The industrial zone also provides solutions to meet investors' evolving requirements, such as Kizad Logistics Park (KLP), Light Industrial Units and Free-Zone Offices. Currently Kizad has around 80 national and international investors, and a total of 13 million square meters of land leased that represents a total investment of more than $13 billion.