NYK Line Order PCTC's From MHI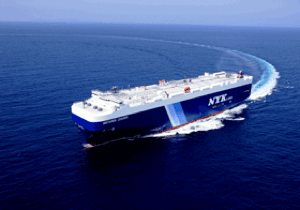 Mitsubishi Heavy Industries, Ltd. (MHI) jointly with Imbari Shipbuilding receive orders for two Pure Car & Truck Carriers (PCTC's).

In building the two vessels, MHI will provide Imabari with design information on PCTC construction, incorporating advanced ship technologies, including installation of various devices and systems to reduce environmental burdens, such as the Mitsubishi Air Lubrication System (MALS).

Imabari will contribute significantly to the project through its strong cost competitiveness. The newly designed car carriers will feature an over-Panamax* size hull, and their advanced energy-saving technologies are expected to enable a over 30% reduction in fuel consumption per loaded vehicle compared with existing ships. The two ships are slated for completion in 2015.

Each pure car carrier on order will be 200 meters (m) in length, 35m wide and 38m in draft, with capacity to carry approximately 7,000 vehicles. The larger ship size is being adopted in anticipation of the planned expansion of the Panama Canal, which is expected to reach completion in the autumn of 2014.



Based on MHI's design concept and technologies related to energy saving, Imabari will undertake aspects from the basic design through actual ship construction. MHI will also supply various core components, including the main engines, propellers and MALS. 


MALS is MHI's proprietary technology that reduces frictional resistance between the ship hull and seawater by introducing a layer of air bubbles blown from the ship's bottom. In addition to MALS and an electronically controlled Mitsubishi-UE marine diesel engine, the new vessels will adopt the Mitsubishi Hybrid Turbocharger, a generator-integrated hybrid MET turbocharger for marine diesel engines that utilizes exhaust gas not only to drive the turbocharger but also, using its waste heat, to generate the vessel's electric power supply while at sea.

The new design will also employ an MHI windscreen at the ship's bow that reduces wind resistance from headwinds and a Mitsubishi Energy Saving Hybrid Inverter Pump (MESHIP), an inverter-controlled cooling seawater pump that enables optimized energy-saving pump operation according to the main engine's operating conditions.