New Orleans Coast Guard's In-House College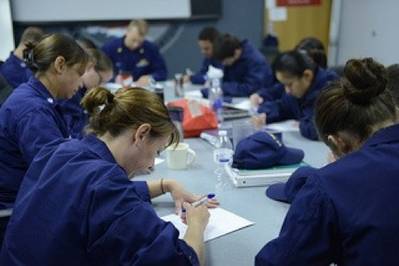 Coast Guard Station New Orleans has received a new wave of fresh recruits from Cape May, N.J. In preparation to train them, Station New Orleans planned and organized a "boat crew college" in the station's pilot house.

Petty Officer 3rd Class Jacob Mullins, a boatswain's mate and primary instructor for the boat crew college at Station New Orleans, explains, "Five new members have reported to Station New Orleans in the last month, all of whom are required to become boat crew qualified within four months. In order to speed up the process we created the 'Boatcrew College.'"

Station New Orleans invited staff officers, supervisors and watch-standers from other local units in the area: Coast Guard Sector New Orleans, Coast Guard Marine Safety Unit Morgan City and the 8th Coast Guard District. They came to attend the course and get a feel for the field-level impact of their operational decision making.

"The primary objective of the boat crew college is to enable personnel within the 8th District area of responsibility to get the Coast Guard boat crew qualification," said Lt. Joseph Prado, Enforcement Division member at the 8th Coast Guard District. "Boat crew member certification is a part of the Boat Forces Personnel Qualification Standard and a requirement for the Boat Forces Pin."

After completing the physical fitness evaluation on the first day of the course, the students began with intensive classroom training interspersed with hands-on practical training, covering many topics.

The final days of the course consisted of review for the written test and oral board, and more time underway to practice emergency scenarios for the qualification check ride.