Storing Capacities in Kiel's Ostuferhafen Extended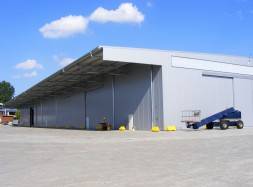 Port of Kiel has extended its warehousing capacities in Ostuferhafen. On August 1, the new Warehouse 4 was taken into operation, which is intended to be used particularly for storing packaged goods. In addition, it is highly suited for warehousing forest products no matter what the weather conditions might be.
Dr. Dirk Claus, Managing Director at Seehafen Kiel GmbH & Co. KG, said, "The constant growth of business with Eastern Europe requires further capacities. With this new steel construction warehouse, we are meeting the higher demand regarding warehousing possibilities directly in Ostuferhafen." As the frequency of the ferry route Kiel – St. Petersburg has recently been doubled, Warehouse 4 comes just at the right point in time. The vessels of the shipping company DFDS Seaways now depart 7 times a week to Klaipeda in Lithuania and twice a week to Ust-Luga as well as St. Petersburg in Russia. During the first six months of this year, some 1.2 tons of cargo were shipped via Kiel to/from the Baltic States and Russia."

He continued, "The new Warehouse has a floor space of 3,000 m² while measuring 100 m by 30 m. Under a projecting roof of 7 m width that is spanning the whole length of the warehouse, another 700 m² covered space is available. Warehouse 4 has a headroom of 7 m and is operated with three sliding gates. The modern steel construction including double pitch roof was erected on the precast foundations within ten weeks. The construction cost amounted to 1 million Euro including foundation and pavement. The hall's highlight is an energy-saving LED lighting as well as temperature insulation through panels insulating against heat and cold. Dirk Claus: "The new Warehouse 4 increases our hall capacity in Ostuferhafen to approximately 30.000 m², equalises the storing possibilities of different goods classes and improves our flexibility. Looking at the future cruise handling at Berth No. 1, the latter is particularly important as parts of Warehouse 2 can now be utilised for baggage handling."