Lake Erie Parade of Sails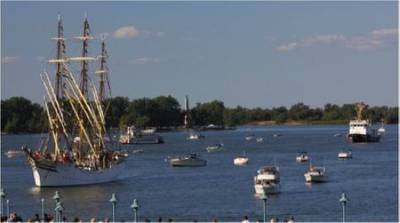 The 2013 Erie Tall Ship's Parade of Sails (with tall ship tours) is being held for the 4 days starting Sept. 5, 2013 in Presque Isle Bay, Pa., with some 60,000 visitors in attendance.
This year's festival marks the 200th anniversary of the building of Commodore Oliver Hazard Perry's fleet in Erie and his victory at the Battle of Lake Erie off of Put-In-Bay, Ohio, Sept. 10, 1813.
Pictured is the US Coast Guard Cutter Morro Bay, a 140-foot ice-breaking tug homeported in Cleveland, as she follows the sailing training vessel Sorlandet, a 211-foot full-rigged ship from Kristiansand, Norway.
The Coast Guard is responsible for enforcing safety and security zones during the event.