Blazing DUKW Abandoned in River Thames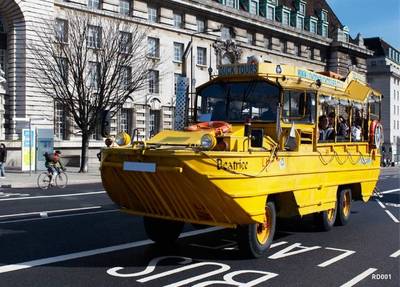 The vessel caught fire while in sea-borne mode, and the 30 passengers and crew evacuated into waist deep water between Lambeth Bridge and Westminster Bridge.
Soon afterwards, three commercial RHIBs nearby attended and recovered people from the water and landed them at a nearby pontoon. London Fire Brigade's boat was also on scene and the fire was extinguished.
Tower and Chiswick RNLI lifeboats and the Police helicopter searched the water to ensure nobody was unaccounted for in the water. Soon afterwards it was confirmed that everyone from the vessel was safely ashore and accounted for and no serious injuries are reported.

The vessel has been towed to Lacks Dock where it will be removed from the water. The incident has been reported to the Marine Accident Investigation Branch, (MAIB).
Owners of the vessel, London Duck Tours, stated they would not be operating on the river until the cause of the incident had been established.