TEAM Ships Three Passenger Boarding Bridges to Hong Kong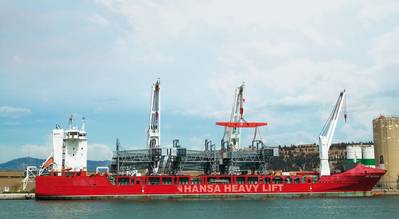 TEAM Ports & Maritime, an Adelte Group company , is transporting by sea three of its five mega PBBs contracted by the Hong Kong Government.

TEAM, a company in the design, manufacture and installation of Passenger Boarding Bridges (PBBs) for cruise and ferry terminals, has completed the assembly, implementation and loading of its first three mega boarding bridges, which are on their way to the new Kai Tak terminal in Hong Kong.

These five-tunnel HYDRA PBBs, each weighing 170 tons, have been loaded, fully assembled, on board a heavy lifter 168m in length, making them the largest ever units to be transported in this way.

The new terminal, designed by British architect Norman Foster, will receive a total of five mega PBBs designed in TEAM's engineering center in Barcelona and manufactured in its modern facilities in Monzón (Spain). Each one, designed to be fully consistent with the architecture of the spectacular building, will allow for the docking of everything from small cruise ships to mega cruisers. TEAM's design, as well as ensuring total comfort and safety for passengers, including those with disabilities, also facilitates logistics operations on the dock. The PBBs' wide structure enables vehicles, equipment and suppliers to pass under the tunnels, while allowing the continuous flow of passengers.

With this project, the Barcelona-based company strengthens its presence in Asia, already having three bridges operating at the other major hub in the region, the Marina Bay Cruise Center in Singapore.