Passenger Ferry Delivered to Guadeloupe Operator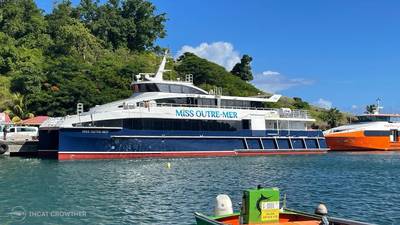 A 36-meter custom built passenger ferry has been delivered to Guadeloupe-based operator CTM Deher by Incat Crowther.
The new 316-seat passenger ferry has been designed to safely and efficiently service CTM Deher's passenger and tourism routes in the French West Indies and is expected to begin operating in late 2023.
The new ferry, named Miss Outre-Mer, was designed using Incat Crowther's digital shipbuilding process. This meant CTM Deher and Incat Crowther worked closely together to deliver the complete digital ship design before physical construction began at PT Kim Seah Shipyard in Indonesia. Incat Crowther also supported the operator with shipbuilder selection, commercial framework and due diligence, interior design and construction oversight of the project.
With a strong focus on elevating the customer experience, Miss Outre-Mer's main and upper decks are connected by a large midship staircase. The main deck seats 221 passengers and provides space for four wheelchairs while featuring a kiosk, TV screens and Wi-Fi for entertainment, as well as six bathrooms. The upper deck can transport up to 143 passengers, including 48 people in exterior seats.
Designed to service the busy tourist route between Trois-Rivières and Les Saintes in Guadeloupe, the vessel has several large cargo and luggage racks. Overhead gantries have also been installed to assist with the movement of large, heavy luggage trolleys.
The elevated wheelhouse on the upper deck provides the vessel's crew with good visibility in all conditions.
Capable of reaching speeds of up to 28 knots, Miss Outre-Mer is powered by twin MTU 12V4000 main engines and will have a service speed of 25 knots. CTM Deher has opted for Humphree HLS stabilisers to enhance comfort.