Passenger Vessels: Rising to the Challenge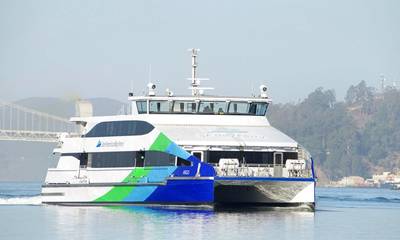 Interferry CEO Mike Corrigan explains the driving forces behind the global trade association's imperative to keep its foot on the gas.
Interferry and its members scaled some demanding peaks in 2022 but, to state the obvious, our work is never done. Facing an equally busy schedule of challenges and opportunities in the year ahead, we need to keep climbing – a truism that has been memorably expressed as 'the top of one mountain is always the bottom of another'.
Our 46th annual conference in Seattle last October was definitely one of the peaks, not least due to an event-record attendance of more than 500 participants. It spoke volumes for our evolution from US origins in 1976 as a modest networking initiative. These days we rank as the voice of the global ferry industry, which includes consultative status at regulatory linchpin the International Maritime Organization (IMO) and worldwide input to governmental authorities.
Next stop for the conference is Australia in November, but I'll return to this subject after outlining the pressing issues that currently demand Interferry's equal attention.
Right now we are digesting outcomes from the IMO's latest Marine Environment Protection Committee meeting, which took place in December. In a key part of the agenda, discussion was renewed on regulations for drastic reductions in greenhouse gas (GHG) emissions, which aim for 'net zero' by 2050. Questions were raised about the feasibility of previously-proposed interim targets set for 2030 and 2040, but further consideration was deferred to MEPC meetings later this year.
Meanwhile two compliance instruments have already come into force from January 1. The Energy Efficiency Existing Ship Index (EEXI) requires certification to a technical efficiency standard, while the Carbon Intensity Indicator (CII) means ships must conform to a continuous improvement plan for operational efficiency. Interferry spent several years lobbying that the original proposals required sector-specific amendments compatible with the diverse design and operational profile of ferries. Having won that argument, we will now keep close watch on the implementation pending a review of the systems due in early 2026.
The ferry sector is leading the drive towards decarbonization with its pioneering transition to fully electric or hybrid power systems, but we can't do it alone. In particular, our shipboard initiatives must be matched by massive expansion of the shoreside electricity grid. Most existing capacity is limited to 'cold ironing' consumption at berth, so does not ensure sufficient recharging of batteries for propulsion.
As a result, last May we launched a campaign urging governments and port bodies to invest in Onshore Power Supply (OPS) infrastructure. In the first step, an agreement was signed with the European Sea Ports Organization to jointly promote the provision and use of OPS. Since then we've reached verbal understandings with similar partners. Talks with the Cruise Lines International Association are the furthest advanced, and two more heavy hitters are in the pipeline – the International Association of Ports and Harbors; and container line body the World Shipping Council.
Another major aspect of our involvement in environmental issues concerns the Emissions Trading Scheme (ETS) recently agreed by the European Union (EU). The scheme will include maritime emissions and will apply to vessels calling at EU ports regardless of flag. Most large vessels will be included from the start, with a gradual obligation for shipping companies to surrender allowances - 40% for verified emissions from 2024, 70% in 2025 and 100% by 2026.
Interferry's outstanding concern is whether any of the ETS revenues will flow back to the industry to help us meet GHG reduction targets – a key point in tripartite meetings we have held with representatives from the EU's governing body, executive and parliament. In pursuit of such issues, we have also signed a working agreement with the European Community Shipowners' Associations – leveraging their resources to advance our position on regulatory files and obtain timely updates on EU developments.
So far as the 2023 outlook for our members is concerned, the signs are certainly promising. Deliveries of new ferries are flowing, while passenger and freight volumes look set to maintain the return to something like pre-Covid normality experienced last year – when many operators reported volumes close to and even exceeding the levels reached in 2019 before the pandemic struck. Rising costs will undoubtedly impact the bottom line, notably due to the surge in fuel prices exacerbated by Putin's invasion of Ukraine, but this red flag will surely not defeat the ferry sector's legendary resilience.
In this positive frame of mind, I am truly excited that Interferry's 47th annual conference is taking place this year in Hobart, Tasmania. It will be the third time our showcase event has been staged in Australia - following Sydney in 1995 and Gold Coast in 2002 – where we have long since enjoyed a strong and tremendously supportive base of members.
Our conferences play a crucial role in attracting newcomers to the Interferry family. With 25 new members last year alone, we now number more than 270 operators and suppliers in 40 countries. Hobart represents another opportunity to spread far beyond our core US and Europe membership bases and promote the value of our networking, lobbying and best practices mission in the Asia-Pacific region. And in similar vein, next year we'll be in Morocco for the event's debut in Africa.
Meanwhile our 2023 conference diary also includes appearances at February's Passenger Vessel Association event in Long Beach, the Shippax Barcelona gathering in April and the Canadian Ferry Association convention set for September in Vancouver.
I guess you could say this is yet another way in which Interferry aims high through its paramount message…we are Stronger Together!