Keppel Raise Stakes in Philippines Shipyard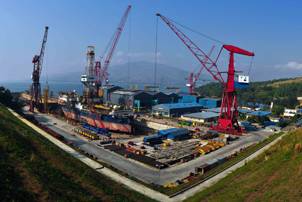 Keppel Corporation Limited (Keppel Corp), through a subsidiary Keppel Philippines Marine Inc, (KPMI), is raising its shareholdings in two associated companies, Subic Shipyard and Engineering Inc. (SSEI) and Consort Land, Inc. (CLI) to boost its Near Market, Near Customer strategy in the Philippines.

SSEI is a shipyard located in Subic Bay, the Philippines, which provides repair, conversion and building services to shipowners and offshore operators in the region. It also carries out routine and specialized machinery reconditioning works, as well as steel fabrication for marine and offshore structures. CLI owns 72 ha of land including the 20 ha on which SSEI is situated.

A total cash consideration of approximately S$86.5 million will be made by Keppel to raise its effective stakes from 44% to 83.9% in SSEI and from 33.7% to 38.7% in CLI. The sale and purchase of shares in both companies is expected to be completed by the end of September 2010, following which, SSEI will become a Keppel subsidiary.