Pirates Losing Battle to Capture Ships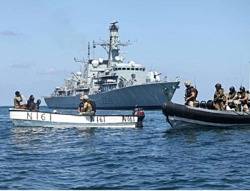 Pirates less successful in ship hijacks, still considerable threat says NATO Shipping Centre

The NATO piracy update mentions in its overview of the week, four piracy related incidents in the High Risk Area (HRA): a Pirate Attack Group (PAG) was disrupted (017/12), one merchant vessel was hijacked (Alert 018/12), one merchant vessel was approached by suspected pirates (NSC 010/12) and one merchant vessel was attacked ( 019/12).
As the monsoon period is over and the sea state becomes more favourable for small boats, it is expected that Pirate Attack Group activity will increase in the weather transition period.
The counter-piracy guidance update sums up as follows:
Successful disruptions by naval forces over the past few months, complemented by masters' adherence and implementation of advice, have significantly reduced the pirates' ability to capture vessels. However, pirates continue their attempts to hijack any vessels of opportunity; a reminder that piracy can occur at any time. In the northern Somali Basin and Arabian Sea the preferred motherships are local dhows, whereas in the southern SB, 8 metre whalers are preferred as motherships.