Port of Hamburg, 310 Tonne Turbine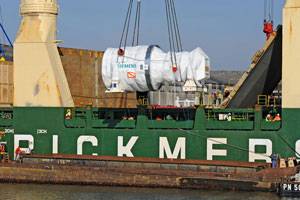 The second largest gas turbine ever manufactured by Siemens in Berlin was recently loaded onto the breakbulk vessel Rickmers Jakarta at the Wallmann-Terminal in Hamburg for shipment to Singapore. Weighing 310 tonnes, the turbine is able to generate electricity in an extremely efficient and therefore environmentally friendly manner. It is to be installed in a new gas and steam turbine power station in the island state, which is due to start operations in 2010 and can claim an energy efficiency of 80 percent.

With an output of approximately 250 megawatts, equivalent to the power generated by about 3,500 medium-sized cars or 100 standard wind turbines, the 11 metre long and five metre high gas turbine would, in theory, be able to generate three quarters of the energy required by Hamburg's private households.

The pre-carriage of the gas turbine from the Siemens plant in Berlin to the Port of Hamburg was carried out by barge. Rickmers Jakarta, a multipurpose heavy lift ship owned by Rickmers-Linie, lifted the turbine directly off the barge with its own shipboard cranes while alongside at the Wallmann-Terminal, in which Rickmers has held a 25.1 per cent stake since 2008. The voyage from Hamburg to Singapore, where the vessel arrived on 24 April, took just 30 days.

Rickmers Jakarta is one of nine identical ships that were phased into service between 2002 and 2004. Operating in Rickmers-Linie's highly successful eastbound Round-the-World Pearl String service, these vessels connect the world's major industrial centres. The service offers sailings every 14 days from Hamburg, Antwerp and Genoa to Singapore, Indonesia, Thailand, Vietnam and China. From there, the ships sail via Japan and South Korea to North America. In New Orleans, Houston and Philadelphia, they load cargo for both Europe and Asia.

The onboard cranes of Rickmers Jakarta and her sister vessels are able to lift indivisible pieces of cargo weighing up to 640 tonnes. The holds are fitted with adjustable tweendecks as well as air dehumidifying systems. The vessels are each 192 metres in length and have a service speed of 18 knots.

Hamburg-based Rickmers-Linie specializes in breakbulk, heavylift and project cargo. In addition to its Pearl String service, the company offers services from Europe to the Middle East and India, as well as from the US East Coast to North China, South Korea and Japan.