Portugal and Norway Team Up on Floating Offshore Wind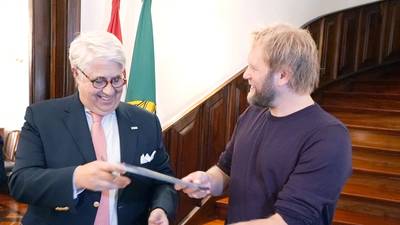 The Portuguese cluster Forum Oceano and Norwegian Offshore Wind have signed a Memorandum of Understanding (MoU) to strengthen collaboration between the supply chains in the two countries.
The MoU aims to lay the ground work for new contracts between companies from the two countries.
The agreement was signed at a reception this week, during a visit to Portugal organized by Norwegian Offshore Wind and The Norwegian Embassy in Portugal.
Forum Oceano and Norwegian Offshore Wind both focus on developing a strong supply chain in floating offshore wind. "With the fast-emerging offshore wind markets in both Portugal and Norway stronger links between the two countries and a partnership between our two organisations will create great opportunities for the industry," says Arvid Nesse, manager of Norwegian Offshore Wind, representing close to 400 member companies.
A team from Norwegian Offshore Wind visited Portugal in January and conducted several webinars, in addition to receiving representatives from the Portuguese Government and State Secretary during official delegations to Norway. The Portuguese market with a high content of relevant stakeholders was also represented during Floating Wind Days in Haugesund earlier this year. This week, 15 prominent offshore wind companies are part of the Visit NOW in Lisbon and Porto.
"Floating offshore wind is an abundant blue renewable energy resource in Portugal, with a high potential of monetization already in the present decade, and also of regenerative impact for marine ecosystems," said Ruben Eiras, Secretary-General of Forum Oceano.
"Forging a deep partnership with Norwegian companies is the way to go for accelerating this ocean industry in Portugal. It will establish solid business foundations for a resilient industry value chain between the two ocean countries. In fact, efficient floating offshore wind will not only substitute fossil fuels imports for Portugal and the EU, augmenting its sustainable energy security, but will also generate a competitive tech-export driven industry for both Norway and Portugal," says Eiras.
Portugal has big ambitions in offshore wind, especially floating wind. The government has set a target of 10GW of installed offshore wind by 2030, to be allocated via competitive auctions from Q4 2023. A total of 20 x 500MW lots have been suggested, with the first auction to include seven sites from the northern-most three areas. Approval of these proposals, within the Plan for Allocation of Maritime Areas for Exploitation of Renewable Energies (PAER), is scheduled for Q4.
The companies participating in this week´s Visit NOW are Equinor, Mainstream Renewable Power, PGS, TGS, Maple Power, Saga Subsea, Source Galileo, DNV, 4C Offshore, Odfjell Oceanwind, BW Ideol, Esgian, Technip FMC, Vind AI and Fred Olsen Seawind.