AEU Presents Safety Awards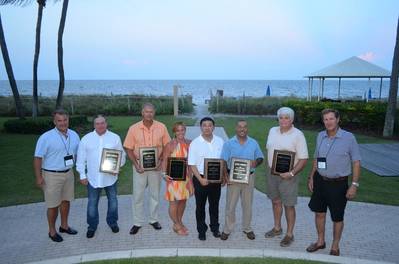 The American Equity Underwriters, Inc. (AEU) presented its 2014 Safety Awards at the annual American Longshore Mutual Association, Ltd. (ALMA) Conference on July 19, 2015, in Key Biscayne, Fla.
AEU, which provides solutions for workers' compensation coverage under the Longshore and Harbor Workers' Compensation Act, each year gives awards to the best performing ALMA members nationwide based on the rate and severity of accidents for the calendar year.
The award is an acknowledgement that these companies are leaders in the most important aspect of business operations, protecting employees from injury or death, AEU said.
Marine Cargo Handling
Diversified Port Holdings, LLC
Levin Enterprises, Inc.
Linea Peninsular, Inc.
Shipyards
Keppel AmFELS LLC
1st Flagship, Inc.
RBT Welders, LLC
Offshore Industry
W&T Offshore, Inc.