Purfresh Names Westcott President and CEO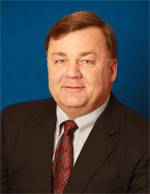 Proven executive to build upon Company's leadership position and growth.

Purfresh, Inc., a provider of ocean transport and supply chain management technologies that optimize the quality and safety of fresh produce as it moves around the world from the farm to the consumer, announced the appointment of Dr. Brian Westcott as president and chief executive officer. A results-driven leader with more than 25 years of experience in operations, strategic management, and corporate development for both Fortune 500 and early stage companies, Dr. Westcott joins Purfresh to build upon the Company's leadership position and growth. Dr. Westcott succeeds Mr. David Cope, who will chair the Company's scientific advisory board.

In academic and business circles alike, Dr. Westcott is a thought leader in strategic innovation. He has published and lectured in the areas of leadership, business policy, technology strategy, company change programs, product development, and operations management. His case studies on technology management are published through Harvard Business School and the Stanford Graduate School of Business.

Dr. Westcott has led a distinguished career, which began at General Electric, Inc. more than 25 years ago. Before joining Purfresh, Dr. Westcott held senior positions for JDS Uniphase, Inc., Inogen, Inc., and AT Kearney. He was the first postdoctoral fellow at Stanford Graduate School of Business, earned a Ph.D. in management science and a master's degree in mechanical engineering from Stanford University, and holds a bachelor's degree in mechanical engineering from Lehigh University. Mr. Westcott was recognized as a Hero of U.S. Manufacturing by Fortune Magazine, and was the chief executive officer and founder of Westt, Inc., ranked #34 fastest growing company in America by Inc. Magazine. Dr. Westcott's appointment comes on the cusp of the company's five-year anniversary of its Purfresh Transport technology.