Hot Water Diesel Pressure Washer from Water Cannon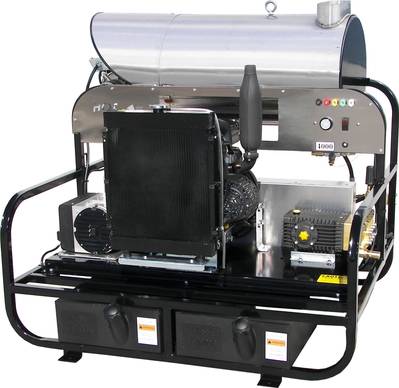 Water Cannon's washer provides superior surface preparation for commercial marine applications.

Customizable with PSI ratings to 4,000 and power to 8.0 GPM, Water Cannon's hot water diesel powered pressure washer is designed for commercial marine applications such as surface preparation, barnacle removal and corrosion control. Self-contained with dual 15-gallon poly-diesel fuel tanks and a 12-volt battery in a marine duty battery box, this washer needs no external power. A Kohler engine powers this washer, which can be customized with a pump from Cat Pumps, General Pump or Annovi Reverberi. An insulated schedule 80 coil heats water immediately using minimal fuel. A control panel, adjustable thermostat, and safety pressure release valve give the operator complete control. A 3VX belt system with four laser aligned belts offers balanced power transfer. Accessories include a gun/wand assembly, 50' hose, chemical injector, spray nozzles, chemical nozzle, and optional wheel kit. www.watercannon.com; 1-800-333-9274.