Axiom Propellers Granted US Patent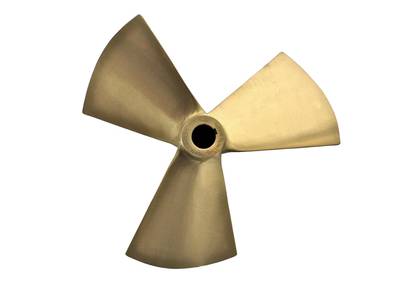 Axiom Propellers has been awarded a US patent for its Axiom symmetrical blade design.
The patent complements others the company already holds including for the European Region, UK, South Korea, Australia and Hong Kong giving Axiom Propellers worldwide coverage. It covers the unique features of the Axiom Propeller including the shape of the blade and the fact that there is no twist with regards to pitch, its curvatures and diameters and the wake produced, all of which are a direct contrast to a marine screw. The patent has taken nearly four years to realise, an achievement company head, Alan Watts, said was extremely significant.

"The US markets hold huge potential for our company," said Alan. "With the granting of this patent we are able to explore many different licensing and production options that will open up to us," he said. "We are immensely proud of the accomplishment."
"This latest addition to our intellectual property completes the world wide coverage for the Axiom blade design."

The Axiom Propeller is suitable for yachts, workboats, ships and barges up to 150ft. Being granted this patent in the United States confirms the uniqueness of the Axiom symmetrical blade design which is proven to give equal thrust ahead and astern, enhanced stopping power and a large reduction in prop walk while giving fuel savings of up to 15 per cent.