MAN Propulsion Package Powers Two New AHTS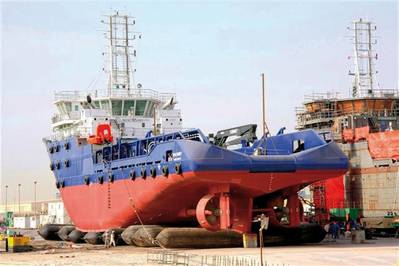 Abu Dhabi-based Adyard has delivered two AHTS vessels equipped with MAN L27/38 propulsion packages.
The two Topaz Energy & Marine 67-metre (80-ton bollard pull) vessels are ready for anchor handling tug supply services and the transportation of dry and liquid cargo to and from pipe-laying barges, drilling platforms and production platforms for offshore operations.

The Topaz Dignity will operate on behalf of BP, the oil and gas major, on a long-term-contract basis in the Caspian Sea – whilst Topaz Triumph may remain in the Middle East and be operated by Topaz Marine MENA. The state-of-the-art vessels are equipped with the latest technical equipment and are custom-built for Fi-Fi Class I and DP2 operations.

Propulsion package

The twin-screw propulsion package for each vessel consists of 8-cylinder, medium-speed MAN L27/38 engines of 2,720 kW each, horizontal offset reduction gearboxes with an CPP servo oil distribution unit, and a 1,500 kW shaft alternator PTO. The gearboxes drive approximately 18-metre intermediate shafting, and 13 metre propeller tailshafts in oil-lubricated stern tubes.
The MAN Alpha CP Propellers are 2,800 mm diameter ducted, turning 198 r/min at MCR. The propeller thrust and pulling power is boosted by Alpha High Thrust nozzles, customised to hull integration with a length/diameter ratio (L/D) of 0.6. The Alphatronic 2000 Propulsion Control System is configured with twin control stations on both main bridge, aft bridge and in the engine control room – including interfaces to joystick and dynamic positioning systems.

About Topaz Energy and Marine
Topaz is a leading oilfield services company providing marine and engineering solutions to the global energy industry with a primary focus on MENA and the Caspian Sea. Headquartered in Dubai and with more than 35 years of experience in the Middle East, Topaz operates 98 offshore support vessels, and Topaz Engineering engage in shipbuilding, ship repair, and offshore construction and maintenance activities. Topaz is a wholly owned subsidiary of Renaissance Services SAOG, a publicly traded company on the Muscat Securities Market, Oman.