Veth Propulsion Wins Z-drive Brazil Order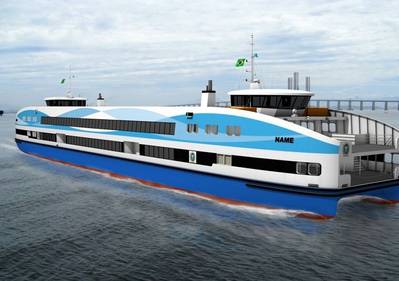 Holland- based Veth Propulsion has signed a contract for the delivery of 28 counter-rotating of Z-drives, type VZ-700-CR (700 kW/1800 rpm).
The Z-drives are intended for seven aluminum catamarans, designed by CoCo Yachts Holland BV and for the State of Rio de Janeiro.
The seven ferries of 78 meters have a capacity of 2000 passengers and will sail between Rio de Janeiro and Niterói, with the World Cup 2014 and Olympic Games 2016 transportation needs in mind.
"There are 100,000 people using that route each day," says Henk van Herwijnen, General Manager at CoCo Yachts. "It is expected that this number will grow to 150,000 people per day. These people live in Niterói and work in Rio de Janeiro." The seven ferries will be used as a substitution and also completion of the current fleet.
Six of the ferries have diesel-electric propulsion and dual fuel. Veth Propulsion is to deliver four thrusters per vessel. The counter rotating propellers, say Veth and realize a 15 percent efficiency improvement, and the Veth Z-drives are flexible-mounted entirely to keep down noise levels.

The first ferry will be delivered in November 2014 and the remaining vessels bi-monthly.