Alfa Laval Debuts PureNOx Prime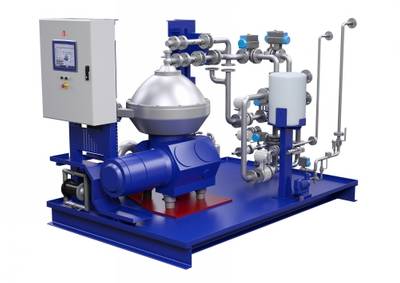 As the implementation of Tier III NOx limits approaches, Exhaust Gas Recirculation (EGR) is rapidly maturing. Now Alfa Laval has introduced
Alfa Laval PureNOx
Prime, a smaller, leaner and streamlined version of its EGR water treatment system for EGR engines operating with low-sulphur fuel.
Many ship owners are considering their choice for compliance with Tier III NOx limits, which will soon apply in the North American and
U.S. Caribbean Emission
Control Areas (ECAs), Alfa Laval noted, adding, EGR is already the technology front-runner, due to its space savings and lower total cost of ownership.
"Alfa Laval PureNOx technology has always met the strict legislative demands on EGR water treatment," said Kristina Effler, Business Manager, Water Treatment Exhaust Gas Emissions. "With Alfa Laval PureNOx Prime, we put additional emphasis on the tough market demands of low investment and operating costs."
For use with low-sulphur fuel, PureNOx Prime, recently launched at Kormarine, is a streamlined water treatment system. "EGR is a compact technology in which most components are built into the engine itself," Effler said. "PureNOx Prime further diminishes the EGR footprint, and it has a more modular design that makes installation even more flexible."
The leaner design also reduces the investment cost, the manufacturer noted. "The more hours spent in ECA operation, the more economical EGR becomes," Effler said. "With PureNOx Prime available for less, that low lifecycle cost becomes even lower."
What remains unchanged in PureNOx Prime is the water treatment capability, which is a crucial aspect of EGR operation. The PureNOx technology, which makes use of centrifugal separation, has been proven in thousands of hours of real-life operation at sea, Alfa Laval said.
"Alfa Laval PureNOx technology has been developed in close cooperation with MAN Diesel & Turbo and tested extensively aboard vessels
from A.P. Moller-Maersk
," Effler said. "Simply put, PureNOx Prime packs the already proven PureNOx performance into a much smaller footprint."