PyroGenesis Flushing on a Grand Scale Aboard New Aircraft Carrier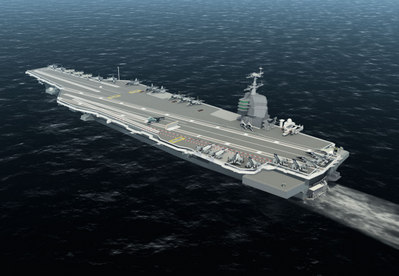 Environmental solutions company PyroGenesis Canada Inc., manufacturer of plasma waste-to-energy systems and plasma torch products, announces that the 'USS Gerald Ford' (CVN-78) is equipped with their patented Plasma Arc Waste Destruction System (PAWDS).
Developed by PyroGenesis in Canada, this green technology is able to process waste generated by 5000 sailors and can be operated with the push of a single button.
"PyroGenesis' system was chosen in a highly competitive environment; its design is five times smaller and half the weight of a conventional marine incinerator. The launch of the USS Gerald Ford reaffirms PAWDS as a proven and state of the art solution for waste management, and underscores PyroGenesis' ability to handle extremely complex/hazardous waste challenges that no other technology can contend with. As such PyroGenesis is expanding the use of PAWDS as a mobile land based waste destruction solution for hazardous liquid and gaseous wastes", said Gillian Holcroft, Executive VP, Strategic Alliances for PyroGenesis."
So far two of Pyrogenesis' PAWDS systems have been ordered, but if the Nimitz-class carriers and Enterprise were to be replaced on a one-for-one basis, eleven carriers would be required over the life of the program representing a revenue stream to PyroGenesis of at least $50-million, and this does not include revenues from PAWDS land based applications", said P. Peter Pascali, President and CEO of PyroGenesis.

www.pyrogenesis.com