Cyclone Warning for North Queensland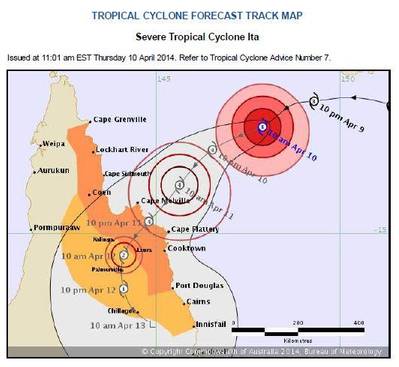 Inchcape Shipping Services (ISS) is advising of the approach of Cyclone Ita towards the North Queensland coast of Australia. Forecast to develop into a severe category level 4 tropical cyclone, it is expected to make landfall late on Friday, April 11 between the Lockhart River and Cape Flattery.

With gale force winds and high sea levels predicted, warnings of potential floods to low lying areas are being issued.

ISS Australia has provided the latest port update from the region and will continue to monitor the impact of the storm on behalf of shipowners and operators. Future updates will be posted to the company website.

Thursday Island (OPEN) - Open to all movements
Cape Flattery (RESTRICTED MOVEMENTS) - Yellow Watch – All vessels instructed to move for safety, likely to close later this Afternoon
Cooktown (RESTRICTED MOVEMENTS) - Yellow Watch – All vessels instructed to move for safety likely, to close later this afternoon
Port Douglas (RESTRICTED MOVEMENTS) - Yellow Watch – All vessel instructed to move for safety, likely to close later this afternoon
Weipa (OPEN) - Open to all movements
Karumba (OPEN) - Open to all movements
Cairns (RESTRICTED MOVEMENTS) - Under Extreme Weather Watch – Open but movements accessed individually.
Mourilyan (OPEN) - Open to all shipping
Townsville (OPEN) - Open to all shipping, however conditions are being monitored and further updates will be issued when required.
Abbot Point (OPEN) - Open to all shipping
Mackay (OPEN) - Open to all shipping
Hay Point / DBCT (OPEN) - Open to all shipping
Gladstone (OPEN) - Open to all shipping