SAUC-E Offers Student Teams Realistic Challenge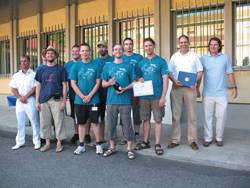 Students studying science, technology, robotics or engineering can put their knowledge and skills to the test at the Student Autonomous Underwater Challenge – Europe.
Held since 2006, the SAUC-E competition challenges the next generation of engineers to design and build an autonomous underwater vehicle (AUV) capable of performing realistic missions.
"The event is designed to encourage students to think about underwater technology and related applications while fostering innovation and technology," says Vladimir Djapic, a scientist at the NATO Undersea Research Centre (NURC) in La Spezia, Italy, and technical director for the SAUC-E 2012 competition. "It also aims at getting young engineers and scientists to consider careers in the field."
Participating teams must consist of 75% student members and have a faculty advisor.
From 2010 SAUC-E has been held on the waterfront in La Spezia at NURC.
SAUC-E '12 will take place 6 July - 13 July at NURC in La Spezia. The competition will run Friday to Friday.
Djapic says that the boat basin at NURC is a very realistic and challenging environment, open to the sea and the elements. "It is not a pool. Participants must contend with wave action, variable visibility, salinity, and tidal conditions."
"Following some spectacular nose dives into the bottom last year—and the resulting reduction of UW visibility making it extremely difficult to find and recover the vehicles—we're asking the teams to install strobe lights on their vehicle. At least this way I have a fighting chance to dive and recover them if they go rogue!," says Royal Navy Lt. Cmdr. Nick Gwatkin, the SAUC-E event coordinator.
Another development for 2012 is the creation of a NATO Engineering Support Team (NEST), which will increase the engineering capabilities of the students designing AUVs by letting students ask questions, share ideas, solutions and even hardware, sensor and software designs and code, and allow them to ask experts for advice. There will also be advice to prepare teams to operate in the real-world environment found in the NURC basin. "This will lead to an increase in the state-of-the-art in AUV design and will also enable teams to develop algorithms for more advanced systems," Djapic says.
Djapic says NEST will also establish a hardware library where student teams can borrow equipment such as acoustic modems. In return, the students will be expected to share the sensor integration code and sensor data they developed with the loaned gear on the NEST web page.
Not only will NURC's NEST experts be available to provide assistance where possible, they hope to also conduct some onsite visits to helps teams at their school laboratories. "We have NEST experts who can assist with software engineering, sensor signal processing, mechanical/naval architecture, and control theory, all of which are directly applicable to AUV design," Djapic says.
Teams of students from universities all over Europe compete using vehicles they have designed and built themselves, and competing on a course where they must complete a series of predefined tasks. Teams are judged on the ability of their AUVs to complete these tasks, as well as technical merit, craftsmanship, safety of design, and fund-raising efforts.
Ten teams from across Europe took part in last year's competition. The 2011 winning team came from the University of Luebeck in Germany. Each the 2011 teams have already indicated interest in participating in the 2012 competition, and two new teams will join in 2012—The University of Las Palmas de Gran Canaria, also known as the ULPGC (Spanish Universidad de Las Palmas de Gran Canaria) and Team SONIA (Système d'opération nautique intelligent et autonome) from École de technologie supérieure in Montreal, Canada, which was the AUVSI RoboSub 2011 competition winning team. "Additionally, we are awaiting confirmation, but are firmly hopeful that this year will see two Italian Universities join for the first time (Florence and Pisa). This expansion of competitors to a possible 14 is not only indicative of the previous year's success but also the popularity of the competition itself," Gwatkin says. "The more the merrier!"
Teams from all over the world are invited at attend. Even if a time decides to come after the deadline, Djapic says the SAUC-E staff will do everything they can to accommodate teams who are willing and ready to participate.
The SAUC-E 2012 event offers sponsorships. Sponsoring organisations will be recognised through co-branding on all SAUC-E publicity including the official website http://www.sauc-europe.org/, posters, brochures/flyers and banners during the competition itself. "We are open to suggestions from organisations interested in becoming actively involved in SAUC-E '12," Djapic says.
Major sponsors for SAUC-E 2012 are the Office of Naval Research and ONR Global.