Lanier Re-Appointed Port Commission, Houston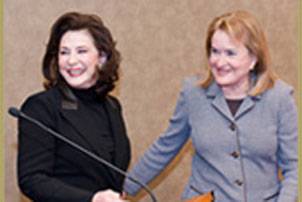 The Port of Houston Authority announced that Elyse Lanier has been re-appointed to serve as a member of the Port Commission, its governing body. The vote on October 12 by the Harris County Commissioners Court was unanimous. Commissioner Lanier was initially appointed to the Port Commission in February 2006. Port Commissioners serve two-year terms without pay.

"Elyse Lanier is a prime example of the kind of people that make Houston and Harris County such a wonderful place to live and work," said Harris County Judge Ed Emmett. "Elyse has dedicated her entire lifetime to her community, through her ties to the Texas Medical Center, her service as Houston's first lady, and now through the amazing energy she brings to the Port of Houston Authority. We're all very pleased she has agreed to serve another term as Port Commissioner."

"Elyse Lanier's commitment to our community is a proven asset to her work as a Port Commissioner," said Sylvia Garcia, Harris County Commissioner, Precinct 2. "Her dedication to providing a great quality of life for all Harris County residents shows through in her work to ensure that the Port of Houston is not only a good business partner, but a good neighbor as well."

"We look forward to continuing our work with Commissioner Lanier," said Port Commission Chairman James T. Edmonds. "She is an energetic and dedicated supporter who has helped spread the word that Houston's port is a key driver for the economic vitality of our region."

"The Port of Houston is this region's economic engine and I take my role as a commissioner very seriously," Lanier said. "I appreciate the opportunity to serve the public and look forward to focusing my next term on two areas that I have been involved in since I started my work with the Port of Houston Authority – security and the environment through our Clean and Green program."

Lanier serves on the Port Commission Small Business Development Task Force. The wife of former Houston Mayor Bob Lanier is a native Houstonian. In addition to her service on the Port Commission, she has worked hard on behalf of the Texas Medical Center, the Texas Heart Institute and M.D. Anderson Cancer Center. Her leadership was instrumental in the formation of the Port of Houston Clean and Green Program, a groundbreaking environmental program to clean up the region's waterways. The Laniers live in Houston, as do their seven children and 11 grandchildren.