NASA Recognizes Conrad for Barge Conversion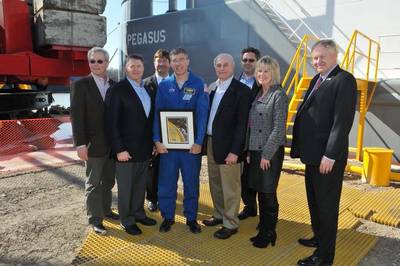 Conrad Industries, Inc. has received the NASA Space Flight Awareness Supplier Award based on its performance with the conversion of the NASA Pegasus barge.
The annual award honors outstanding performance by hardware, software or service suppliers who support NASA human space flight programs. Award recipients are chosen based on their production of high-quality products, excellent technical and cost performance and adherence to schedules.
The Pegasus barge was built to replace NASA's aging Poseidon and Orion barges – both built in the 1940s to serve in World War II and converted in the 1960s for NASA's Apollo program. In 2002 it became the sole means of transport for the shuttle external tanks. Today, it's the only barge of its kind in NASA's inventory. The long-serving Pegasus barge will begin transporting rocket components for NASA's next-generation Space Launch System (SLS) between manufacturing, testing and launch locations upon its completion. Conrad has lengthened the barge from 260 feet to 310 feet so it can handle Space Launch System hardware and components, which are dramatically larger than the older space shuttle propulsion systems. Conrad will perform maintenance and refurbishment to ensure the restored vessel meets American Bureau of Shipping standards.
Visiting Conrad to present the award was Astronaut Capt. Stephen G. Bowen along with Stephen Doering, Director of Center operations at Marshall Space Flight Center; Teresa Vanhooser, Deputy Center Director, Marshall Space Flight Center; Michael Kynard, Deputy Director, Michoud Assembly Facility and Malcolm Wood, Deputy Chief Operating Officer, Michoud Assembly Facility.
"The Pegasus barge will play a crucial role in our ability to get the hardware from the Marshall Space Center, or Stennis, or Michoud to Kennedy for the launch, so it's an absolutely critical role," Doering said.
Dan Conrad, Senior Vice President of Conrad Shipyard commented, "From our beginnings in 1948 building wooden Shrimp trawlers, to supporting our countries space exploration program is humbling. We must give appreciation to our valued workforce who have done a fantastic job of completing our scope on time, and most importantly safely."