Incat Set to Redefine WFSV's with Supacat Design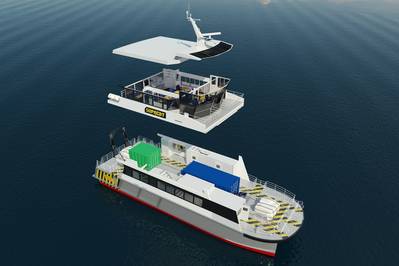 The new Supacat design was unveilled by Incat Crowther at the recent Seawork exhibition in Southampton, UK.
The new vessel, designed to perform multiple Wind Farm and Offshore maintenance roles is currently under construction at Mustang Marine in Wales, due for completion in September 2013.
Central to its design is its high-capacity, pillar-free cargo deck, which is flat from stem to stern. With cabin and hull accesses located outboard, the deck will be fitted with a set of container rails running the full length of the vessel. The length of the cabin overhead is limited to allow vertical loading of containers up to 10 feet on the aft deck and up to 20 feet on the forward deck. Once on board, the containers can be moved forward and aft through the vessel. A deck crane mounted on a base frame can also be moved forward and aft on the rails.
Tie down points are fitted throughout the deck to allow containers, cargo pallets and the crane to be secured in any location. Removable hand rails will surround the deck, allowing safe personnel passageways on both sides of the vessel, linking the forward and aft boarding points with access to the passenger cabin, wet room and accommodation spaces.

The vessel will be powered by MAN V12 D2862 LE463 main engines, producing 1400hp each and coupled to a pair of controllable-pitch propellers giving it a speed of 30 knots, and the necessary thrust for engaging safely with pylons.

Designed with a robust hull with high freeboard, Incat Crowther say that the vessel will offer excellent seakeeping; ensuring personnel arrive at offshore destinations in good shape, and can transfer to installations in a safe manner.
Incat Crowther is part of a team created by Supacat that includes Mustang Marine and DNV.