Donjon Marine Refloats Sunken Barge 2001 on Kill Van Kull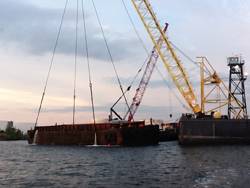 In early August, the fully loaded hopper barge 2001 sank in approximately 25 feet of water while transiting the Kill Van Kull, a waterway that connects Newark Bay to New York Harbor. The barge was loaded with approximately 1,500 tons of shredded steel, as reported by owners. Donjon removed the cargo, rigged the barge for lift, and later refloated it and returned it to its owners. The barge had a light ship displacement of more than 500 tons.
"Whether close to home, like this job near Newark Bay, or in countries far away, Donjon services the needs of its clients quickly and professionally," said John A. Witte, Jr., Executive Vice President, Donjon Marine Co., Inc.