Boat Show at Miami Beach Registered Strong Sales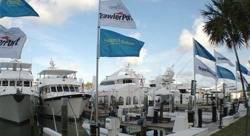 Yacht & Brokerage Show in Miami Beach – attendance, exhibitors, sales up
Attendance at the recent Miami Beach Boat Show based on concession sales and number of people using show transportation at the free-to-the-public event, was up more than 7 percent. Most importantly, notably strong sales activity was reported by numerous builders including Fairline, Viking, Ferretti, Hatteras, Westport and Marquis and brokerages including Allied Marine, HMY and Merle Wood, among others.
"The show was a tremendous success this year," said Andrew Doole, senior vice president and COO of Show Management. "We had more exhibitor participation and the reports are of more qualified buyers than recent years, both signs of a strong industry and a strong show." "This year's Yacht & Brokerage Show was the busiest Miami show Denison Yacht Sales has ever had," said owner, Bob Denison.
"We introduced the Monte Carlo 76 to the U.S. market and our displays in TrawlerPort and at Beneteau Gran Turismo were slammed every day. Two Beneteau Swift Trawlers and eight Gran Turismos were sold at the show."
For sale at this year's show were two of the largest yachts ever offered at The Yacht & Brokerage Show: a 200' Benetti, Diamonds Are Forever, and a 191' Trinity, Carpe Diem. Both garnered attention from qualified buyers.