UK Tax Break Rejuvinates Elderly Offshore Field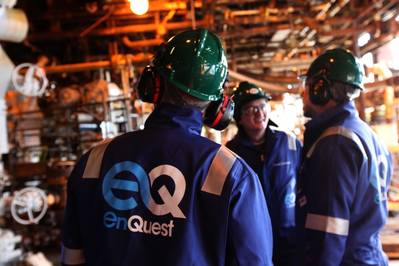 EnQuest PLC, UK North Sea oil producer, has secured a brownfield tax allowance to fully exploit its Thistle oilfield.
David Heslop, general manager for EnQuest in Aberdeen, explained: "Before EnQuest acquired Thistle in 2010, production was declining and, coupled with ageing infrastructure, it was approaching the point where production may have stopped. As a result of our investment so far, which has included facilities and safety systems upgrades, a major rig reactivation programme and drilling of five new wells, production has significantly increased. With the assistance of the brownfield tax allowance, we are now able to embark on the next phase of Thistle's late life extension programme, realising reserves of 35 MMboe and extending field life."

"Thistle is a prime example of how we are able to recover more oil from mature assets through a combination of innovative ways of working and technical expertise. It demonstrates what EnQuest does best and underlines our long-term commitment to the North Sea," he added.

The late life extension programme will see further investment of around £169 million GBP, with contracts for the work being awarded to around 30 companies across the UK supply chain.

The rejuvenated Thistle field has boosted production to levels not seen since the nineties. Following a successful rig reactivation project, completed with an exemplary safety record free of any lost time incidents (LTIs) on drilling operations, EnQuest is now implementing a technology-led work programme which will simplify and streamline processes to create a reliable production environment and include a major power upgrade featuring the installation of a 30MW power generation turbine, a new process control safety system, and wide-ranging topsides integrity work.