Tognum Renames SKL Motor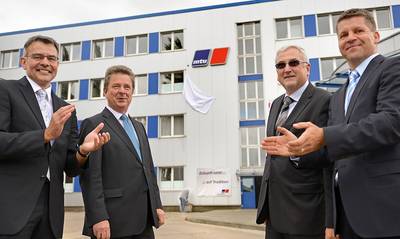 Tognum equips subsidiary SKL Motor GmbH in Magdeburg for standardized reconditioning of MTU engines & components and renames it MTU Reman Technologies GmbH.

The MTU logo is now on the frontage of the main entrance as a sign of a new era in the history of the Magdeburg mechanical engineering operation. It was recently unveiled during a works festival attended by Secretary of State for the Economy of the state of Saxony-Anhalt, Michael Richter, and the Mayor of Magdeburg, Dr. Lutz Trümper.

Many engines that carry the Tognum brand MTU last for longer than one engine life. After extended service lives of as much as 25,000 hours, they undergo a rejuvenation course in Magdeburg from which they emerge as good as new. Magdeburg is the technology center for reconditioning, or remanufacturing as it is technically known, diesel and gas engines made by the Tognum Group.

The facility develops methods and processes for reconditioning components and complete engines and employs them on a large industrial scale. The expertise at the Magdeburg plant is shared with the other Tognum Group remanufacturing sites in order to ensure the same reconditioning standards worldwide.

After taking over SKL Motor in 2008, the Tognum Group re-equipped the facility as a remanufacturing technology center. In addition, the Tognum Group carries out research into the engines of the future in Magdeburg, where new combustion processes, combustion chamber geometries and alternative fuels are investigated on single-cylinder test benches.