Sea Level Marine Completes Cruise Ship Renovations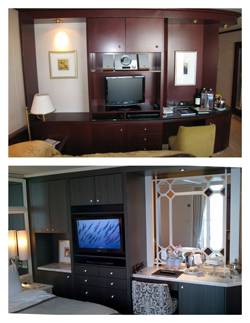 Miami-based outfitting contractor Sea Level Marine announced its recent successful completion of a dry-dock refit of Crystal Cruises' Serenity on May 21, 2011 at Meyer Werft yard in Hamburg, Germany. The scope of the 14-day project was an interior renovation of all passenger accommodations on the vessel including 436 Standard staterooms, 72 Penthouses, and 33 Penthouse Suites. Architectural design for the project was developed by II x IV Design of Toronto.

The renewal of the 436 standard and AA staterooms included built-in, upholstered headboards and nightstand units with decorative sconces and reading lights. Stateroom wall finishes and carpets were replaced and trim moldings were re-finished. All staterooms were fitted with flat-screen HD televisions and DVD players, as well as a new, digital "do not disturb/housekeeping call" system.

Penthouses and Penthouse Suites underwent the biggest transformation. In addition to the new bedroom headboards and nightstand furniture, the luxury staterooms were fitted with entertainment and desk/vanity cabinetry featuring dark "Tokay" wood finishes, and "Calicatta" and "Grigio Carnico" marble tops. All lighting was re-circuited to be controlled by a Lutron digital lighting system which allows passenger to set the mood of the stateroom to customized lighting "scenes" at the touch of a button.

In addition to the upgrade of passenger accommodations, Sea Level renewed finishes in all of the vessel's passenger corridors including wall finishes, carpet, artwork and lighting.