GOM Mission for New Research Ship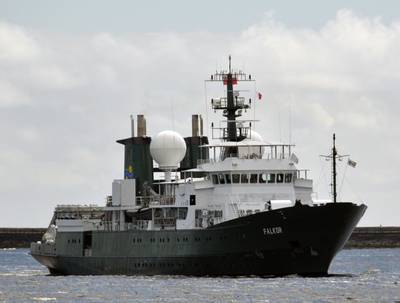 Schmidt Ocean Institute's 'R/V Falkor' to advance studies of artificial reefs, red tides & uncharted regions of the Gulf of Mexico.

Scientists with the Harte Research Institute for Gulf of Mexico Studies (HRI) and the College of Science and Engineering at Texas A&M University-Corpus Christi will study the oceanography of the South Texas coast, including influences on the distribution of red tide while aboard the R/V Falkor later this month.

The R/V Falkor is being provided by the Schmidt Ocean Institute free of charge for the study which is just one of many research projects that will be conducted by the scientists on the oceanographic research vessel outfitted with some of the most sophisticated scientific instruments in the world.

"The R/V Falkor is not only an excellent research vessel, but also provides a wonderful teaching opportunity for the University's marine biology and marine science graduate students," said Dr. Tom Shirley, chief scientist of the first cruise leg.

R/V Falkor can support operations such as over-the-side deployments, laboratory work in wet and dry lab areas, acoustic research using special instrumentation, mammal and bird observation on weather protected upper deck areas, and operations and outreach requiring continuous global Internet access, provided via C-Band VSAT.

Dr. Shirley, a recently retired professor of Life Sciences and former endowed chair of Biodiversity and Conservation Science at the HRI, submitted the current research proposals for the R/V Falkor.

"Because of the scope and depth of our research in the Gulf of Mexico, we are now the beneficiaries of the first cruise legs of this new research ship," said Dr. Wes Tunnell, HRI associate director and endowed chair for Biodiversity and Conservation Science. "The vessel would cost tens of thousands of dollars, and we get it to use it for free!"

Built in 1981 in Lubeck, Germany, as a fishery protection vessel, the R/V Falkor was recently converted and now provides on-board accommodations for 40, including 20 crew members required for operations at sea. The remaining 20 berths will be available to accommodate mission-specific scientific and technical personnel.